Wholesale sheets for hotels with different prices and qualities
Sheets 100% Percale Cotton
At Gjergji H Tekstil you will find the highest quality sheets for hotels. Percale cotton is long fiber cotton.
This type of cotton gives the sensation of a crisp sheet. It keeps a freshness in the summer, is very smooth to the skin, and also very long-lasting.
Satin sheets
Satin sheets are now a mandatory standard for good hotels. Gjergji H Tekstil offers you 100% cotton sheets with satin or linen weave. With white stripes 1 cm and 3 cm or jacquard.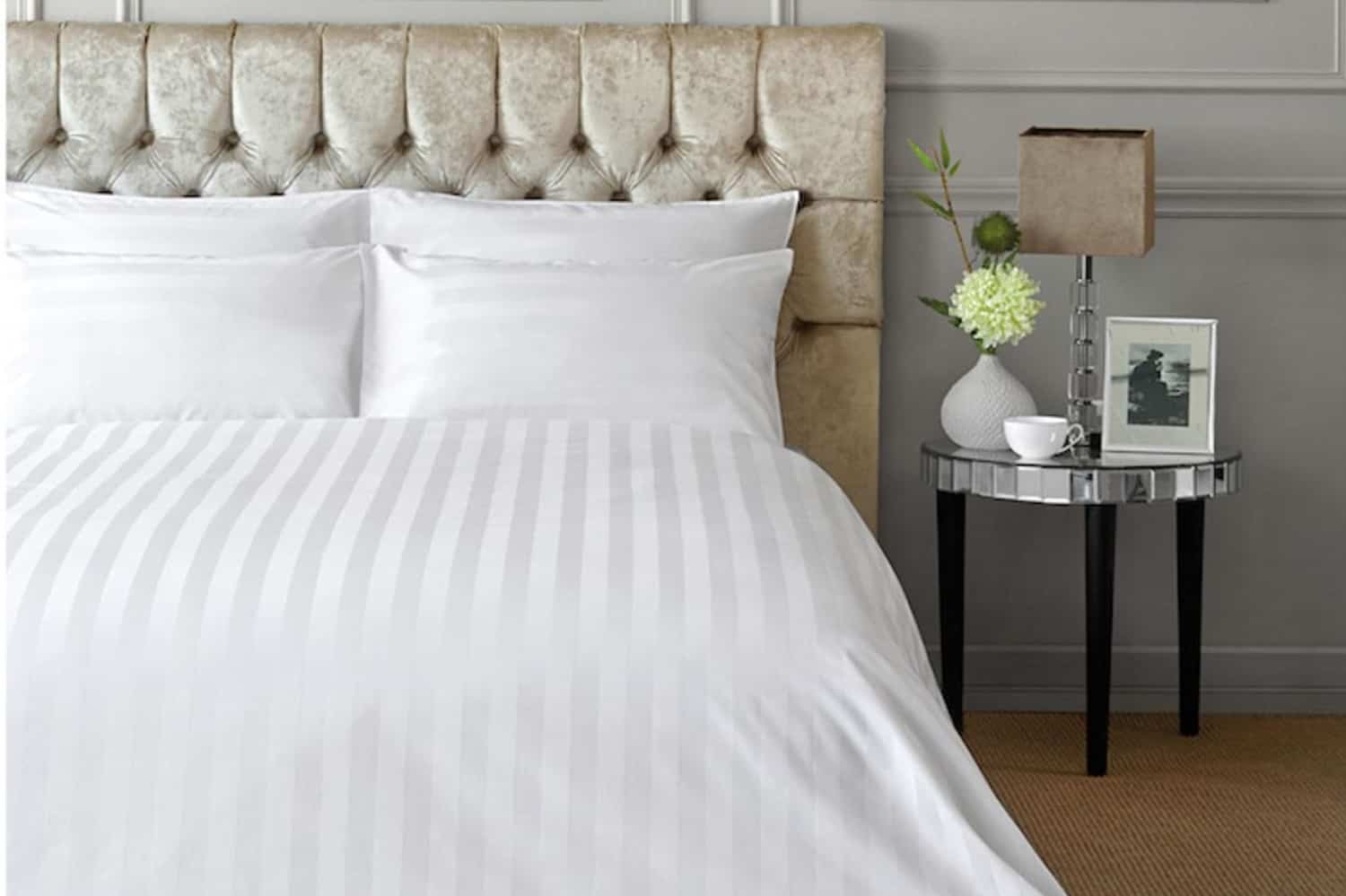 Gjergji H Tekstil offers different qualities and prices for this product:
100%CC40x40/ 210tc
100%CC40x40/ 250tc
100%CC60x60/300tc
100%CC80x80/ 400tc
100%CC80x80/500tc
The Luxury Line
Gjergji H Tekstil also offers the Luxury line of bed sheets. This is the top line, used by 5 Star hotels for Suites. The luxury line is embroidered with borders. This line reflects the most comfortable and elegant impression in the sleeping area. It is available in different embroidery colors and customable according to the requests of clients.
At Gjergji H Tekstil you will find everything that fits your requirements. We offer sheets with a blend of 50% cotton and 50% polyester. Also, we have one of the newest sheet technologies, microfiber – which is cheaper in price and easy to maintain.
Many times we happened to go to a hotel and it is very nicely decorated, the best sheets for hotels. Tiles, sinks, lampshades, everything with details. Then we get into bed for a comfortable and very relaxing sleep. But the opposite happens, the sheets are rough, the pillow too weak, the duvet too small… Don't let this happen to you in your hotel! Choose Gjergji H Tekstil, our 25+ years of experience will help you make the best choice! The best hotels in the Ballkan region are furnished by Gjergji H Tekstil. Sheets for hotels, towels, curtains and everything else you need to furnish your hotel in the best way. Very high-quality pillow for five-star sheets for hotels. Top quality summer and winter quilt. Gjergji H Tekstil is the largest supplier of textiles and home furnishing products. We offer a variety of products, prices and qualities. You can find everything you need for event decoration at Gjergji H Tekstil. Ghost polycarbonate transparent chair. Dressing for chairs which is used for furnishing events. Restaurants are among the most profitable businesses in Albania if they are run well. Service is primary in this type of business. From the quality of the food, Purity. The design of the whole restaurant, the decoration. The way the waiter behaves with the customer. Everything is built and creates a restaurant. Which can be very good or bad. In my experience, the restaurants in Albania are quite good. Here we mean restaurants that have a standard. But even small restaurants have good food quality. You can find everything you need for restaurant furnishings at Gjergji H Tekstil. We are the leader in the sector of napkins for restaurants and tablecloths. We welcome you to our showroom for more.